We're here for you when you need us.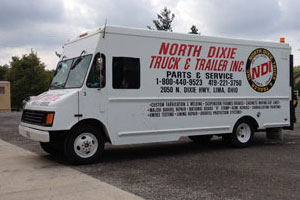 When driving the open road, there is no telling when to expect the unexpected. We know that breakdowns are inconvenient, so our courteous, professional technicians will be there to help, day or night.
You can count on North Dixie Truck and Trailer for 24/7 emergency service. With three fully-supplied service vehicles to meet your emergency needs, we will get you back on the road quickly. Our service vehicles are each equipped with an air compressor, generator, welder, portable lighting, and cutting torch. Our technicians can normally repair your trailer on-site to get you back on the road and minimize your delay. If on-site repair can not be accomplished, our tractor will transport your unit back to our facility. Our maintenance division can handle anything from major roll-over repairs to rebuilds.
Call us for emergency help at 1-800-440-9523.
Battery Service
We'll test your battery and with a quick boost, we can jump a dead battery and get you started and back on the go.

Tire Service
We will inflate and install your spare or if available, make a permanent repair on the spot.
Emergency Fuel Delivery
If you run out of gas, we'll deliver fuel to get you to the nearest service station.
Unlocking Service
If your keys are lost, stolen or accidentally locked inside your vehicle, we can help
Air leaks/Frozen Brakes
If you spring an air leak or your brakes freeze, we will be there to get you back on the road.
Inspections
Need an inspection? We can do that!