You're on the road. Trying to meet a deadline. And boom, something goes terribly wrong: A fire breaks out in your tractor-trailer. This can be a complete disaster. Semi-trucks valued at $100,000 or more can be completely destroyed, not to mention what fires can do to cargo and even your life.
Truck fires are a huge expense to owners and drivers, often resulting in major out-of-pocket expenses from lost revenue, insurance deductibles and cutting wages.

Obviously, truck fires are an important danger to keep aware of, and as with most dangers, prevention and awareness can go a long way in protecting you on the road.
1) The causes
A tractor-trailer fire can start from a number of sources:
— Electrical malfunctions in the cab, sleeper or engine due to overloaded circuits.
— Cigarette smoking.
— Tires or breaks overheating from friction caused by improperly inflated tires.
— Loss of axle lubricant.
— Leaking oil or fuel.
— Improperly installed or defective heaters in the cargo.
2) Prevention
The best way to ensure your vehicle is in the best possible condition for a trip is to have a certified, experienced mechanic do a thorough check. Some basic things you should do to prevent a fire include:
— Look for blown wheel seals.
— Make sure tires are properly inflated.
— Treat smoking materials carefully.
— Have electrical problems inspected thoroughly by maintenance.
— Look for grease or oil accumulation on wheels, axels and around the engine compartment.
3) Reaction
Despite your best efforts, a fire still may strike. Unfortunately, you don't have much time to react so be sure you know exactly how to handle the situation before it gets out of control:
— If you smell smoke or see fire, stop your truck safely and quickly.
— Grab the fire extinguisher and remember PASS: Pull the pin, Aim at the base of the fire, Squeeze the trigger, spray at the base of the fire.
— Use your fifth wheel puller to unlatch the pin and uncouple the tractor from the trailer.
— Get the tractor as far away from the trailer as you can quickly.
— If any fire is still showing, use your extinguisher again to put it out.
— Call the local fire department.
By following these prevention measures and this reaction list, you help yourself immeasurably avoid or fight a disastrous fire. Remember, an ounce of prevention goes a long way. Whatever time and money it takes to make sure your tractor-trailer is in peak driving condition could save you $100,000s down the road.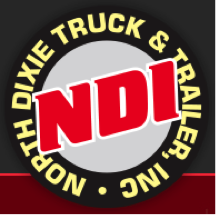 Staying safe this summer shouldn't get lost in the pressure to get the job done. Whether it be great maintenance or the best parts possible, make sure you look to North Dixie Truck and Trailer, Inc. first for all your needs. Contact NDI today by email to info@northdixietruck.com or by calling 419-222-8785 for parts or 419-221-3750 for maintenance.
(Sources: NDI and Great West Casualty Company)