Whether you're a religious or political talk-show listener or a music guru, chances are you have your radio on during your hauls. After all, endless hours on the road can get pretty dull if you don't have some good noise to cruise along to.
Some of you might have your favorite FM/AM stations programmed in for your route or you've got your favorite CDs lined up for each trip. But have you tried satellite radio yet? Satellite radio seems tailor made for truck drivers because the amount of stations and options for finding them are endless.
And if you are already hooked on satellite radio, you might not know all the stations aimed right at truckers you could be listening to on the road.
So we've found some stations you might want to check out on your next trip, or once you've found the satellite option that works for you. And please, feel free to comment below on your go-to stations to help us share the knowledge.
1) TuneIn
TuneIn is a real radio app with more than 100,000 radio stations and more than 4 million podcasts streaming from every continent. It is downloadable in the App Store, the Android Network, and Windows, on smartphones, tablets and computers, and select TV's and connected devices.
America's Truckin' Network – 700WLW – Cincinnati, OH
http://www.700wlw.com/onair/americas-truckin-network-235/
Heard nightly on 700WLW from 12a-5a and anytime on iHeartRadio. You can listen to all of the broadcasts on the TuneIn app on your smartphone or tablet. America's Truckin' Network is said to have the best source of information available.
Red Eye Radio – Arlington, TX
http://www.redeyeradioshow.com/page.php?page_id=128
Red Eye Radio is targeted at long-haul truckers and has broadened its mission to include virtually everyone living and working non-traditional hours. The audience includes shift workers, travelers, truck drivers, and others who embrace the 24/7 lifestyle. This is the successor to Midnight Trucking Radio Network and has roots that go back 40 years.
2) SiriusXM:
Road Dog Trucking – Channel 146
This is a trucker's talk radio channel with subjects ranging from politics to economics or social issues.
3) iHeartRadio:
Artists on this playlist include George Jones, Dwight Yoakam, Randy Travis, and Loretta Lynn. This is the perfect country soundtrack for spending quality time on the road.
Once you start using whichever radio app or satellite provider you choose, you'll begin to find a slew of radio stations that fit your likes. And if you go to your chosen provider, you'll find a huge playlist to try. And the lists normally include everything from politics to rock to country to hip-hop, pop, comedy stations and everything in between.
Again, check these out and share your favorite stations with us.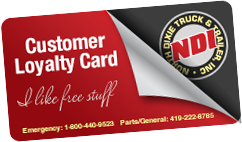 Have you checked out our Customer Loyalty Card yet? As our way of saying thank you to our customers, you can sign up today and build up points for rewards down the line. At North Dixie Truck and Trailer our customers come first and this is our way of saying "thank you!"