If We Don't Have It…. We'll Get It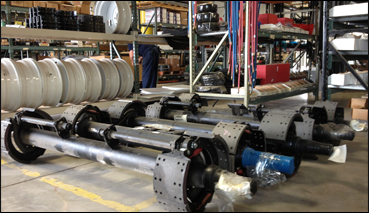 Our parts division has nearly tripled its semi-truck and trailer parts for vans, flat beds, tanks, dumps and hoppers and with access to tires for those on the National Accounts Program, we can meet every drivers needs.
Our friendly and helpful staff is here to make your shopping easy. Stop in, call, or email us for your parts requests.  Our knowledgeable staff can locate most parts for you; If we don't have it………we will get it!
We carry several name brand parts lines including Vanguard, National Parts, Sirco, Brenner, Truck-Lite, Fleet Engineers, Accuride Wheels, Stemco, Multiprens USA Inc. and James King and Company. NDI is an authorized dealer for Hercules Tires, Interstate Batteries and Triangle Spring. We also stock Flagg suspension parts and Continental air bags.
NDI is certified to assemble Parker and Weatherhead hoses for chemicals and fuel applications. North Dixie Truck and Trailer One Stop Parts Shop carries OEM and after-market parts so you can get what you want on the first stop.
We've expanded our parts division by 4,000 square feet. We're still getting it completely organized, so forgive the mess when you stop by.
Our Parts Suppliers