Our greatest strength is our flexibility
Our tank division offers a state-of-the-art fabrication and weld shop and is equipped to work on all types of trailers. We work with you, our valued customer, to make sure that your trailer is properly repaired or retrofitted to exact specifications. We fabricate and weld any kind of metal and can repair any problem your trailer is facing. Aluminum, Stainless Steel, Carbon Steel ~ not a problem! We are familiar with all metals. Want something new and original? Let us know, as we are happy to provide you with a complete design and fabrication options.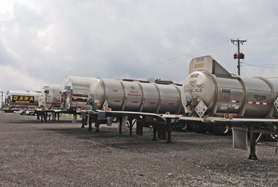 Types of service we offer in our Tank Division
Bottom Loading Conversion
Compressor Repair/Installation
Custom Fabrication
Frame Straightening
Hydraulic System Repair
Major Barrel Repair
National Board "R" Stamp
Power Take-off Repair/Installation
Suspension Repair
Sandblasting/Painting
Tank Change-Outs
Tank Cleaning (Repair Only)
Tank Degassing
Vapor Recovery Testing
Wet Mag Testing
Container Repair
Certified by the National Board of Boiler and Pressure Vessel, North Dixie Truck and Trailer may perform welding repair operations on pressure vessel according to the American Society of Mechanical Engineers (ASME) codes. The National Board of Boiler and Pressure Vessel Inspectors certify that North Dixie Truck and Trailer Inc. is authorized to use the "R" symbol in accordance with the provisions of the National Board.
NDI is an authorized distributor for Total Control Systems. We can install and perform maintenance with the DEF systems as well.