Finding time to stay connected to your family while you're on the road can be a challenge. If your schedule is second or third shift, it becomes even more of a challenge because your family will be on a different schedule than you. No matter how difficult it is, it is important to keep in touch as much as possible, especially if you have younger children. Children will need to be reminded their truck driving mother or father is there for them even if he or she cannot physically be there all the time. Here are some simple things you can do to stay connected to your family that will mean the world to them.
Send Postcards
Kids love getting mail, and when they see a postcard from you from a location you've traveled to, they will feel like they were there with you. They are simple and fun for kids to collect and look at again at a later time when they miss you.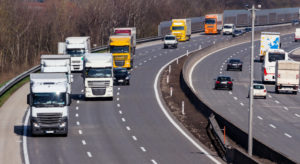 Send a Handwritten Letter
Handwritten letters may take more time to write, but they are worth it if/when you have the time. Letters are also something your family can collect and read later when they miss you. Letters allow you to add a personal touch to your messages.
Call/Text/Video Chat
A simple, short call, text, or video chat goes a long way. This is an easy way to keep your family up-to-date on what's going on in your life when you're away and to get the latest information on what's happening in their lives at home. If you call or video chat your family, they will be able to hear your voice and see your face. And you'll be able to hear their voices and see their faces, which will make you feel better about your time away.
Send Gifts or Souvenirs
Sending your family something unique from the locations you've traveled to will make them feel special. If you can't hand deliver it to them, try surprising them in the mail with small gifts and souvenirs that make you think of them while on the road.
When you're home with your family, make sure to always keep your promises to them and try to do something memorable whenever possible. Experiences are more lasting than gifts will ever be. Actively engaging in fun activities with the family will be better than just sitting around the house. Remember, spending time away from your family is not just difficult on you, it's difficult on everyone so staying connected is essential.
At North Dixie Truck and Trailer, Inc. and Roeder Cartage Co. we believe in a family atmosphere and driver-friendly work environment. If you're ready to start your career with a trucking company that truly cares about its employees, fill out our online application form today.