September 13th kicks off Trucker Appreciation Week 2015. This is the week we honor professional truck drivers nationwide for their hard work and dedication as they tackle one of the most demanding jobs. Make sure to say a huge "thank you" to the truckers in your life for not only working hard, but also sacrificing a normal life to commit to the industry.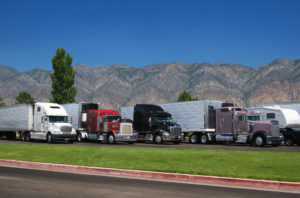 Fun Fact: Did you know there are other job opportunities you can take if you have a CDL? Nearly all truckers begin working OTR; however, once you've put in your time as an OTR driver, you can choose what path you take next in the industry. Here are a few examples of opportunities within the industry that don't involve long trips away from your family and friends.
Recruiting If you love to connect with new people and be an important source of information, you would probably make a great recruiter. These are the people who bring prospective drivers into the industry. You also answer their questions about the industry, and this is where the CDL comes in handy: you've already had some driving experience, so you'll be able to give them the down low.
Dispatcher Dispatchers have the important job of overseeing day-to-day road operations. If you became a dispatcher, you'd be the "behind-the-scenes" person, making sure everything runs smoothly, from ensuring truck drivers have cargo to making sure everything is on time and en route to their correct destinations.
Delivery Driver These are the people who transport food, small packages, etc. from one place to another.
Terminal Manager Truck terminal managers oversee terminal operations. Daily duties include coordinating freight, paperwork, assigning responsibilities to employees, and communicating with customers.
As you can see, the trucking industry is not just limited to OTR driving. There are a variety of important jobs in the industry that may be better suited for your needs. Thank you to all truckers, and all of the other hard workers within the trucking industry such as the ones who work the jobs listed above. We truly appreciate all that you do!
Be sure to stay tuned to our social media week all September long. North Dixie Truck and Trailer will be offering free swag, gifts and contests in honor of National Trucker Appreciation Week and you don't want to be left out!