Every season seems to bring new challenges for truck drivers. Summer is certainly no different as it brings a myriad of driving dangers truckers need to be prepared for on a daily basis. Summer brings more traffic, crazier weather and even the amount of sunlight can wreak havoc on your sleep pattern.
In honor of June being National Safety Month, we're bringing you some of the top trucker driving dangers of the summer and how to properly navigate through (and around) them as the heat rolls in.
ROAD FATIGUE
We bring this up regularly because it is a scary problem. On some levels, driver fatigue is considered as dangerous as drunk driving. In the summer, driver fatigue is at its worst because the weather is hotter, the days are longer and drivers want to push it for as long as they can. Meanwhile, they are creating a very dangerous situation for themselves and fellow travelers.
You need to establish a sleep plan that works for you and always stick with it, no matter the time of year. More sun does not mean you can handle less sleep. Also, if your truck's air conditioning breaks, making it more difficult for quality sleep, call your company immediately and get it repaired. Missing sleep can do serious damage to your focus.
WEATHER DANGERS
For many areas of the country, summer means bad storms: Tornadoes, hurricanes, thunderstorms, heavy rains that strike quick, wind, hail, extreme heat, etc. All create frightening driving conditions at worst and can create hazardous driving conditions at the least.
Check the weather habitually. Look at daily forecasts for where you are and where you will be. Make sure you are taking precautions to deal with what Mother Nature has in store for you. And always check in with your company to stay on top of problem areas. If you do find yourself in a dangerous storm, make sure you get off the road and find shelter ASAP.
MORE TRAFFIC
Traffic swells in the summer months and so do the accidents. These are the months when we start to see more recreational vehicles, more vacationing travelers along with a giant influx of motorcyclists and even bike riders. There's also an uptick in fellow truckers as the agricultural production increases.
The first way to handle this bulge in traffic is simply to be patient: Make friends with the fact it's going to take you longer to get through some areas.
Another great tip is to revise your trip plan. Perhaps you want to route around large cities so you can avoid tourist destinations. Also, keep in mind when you'll be traveling and try to avoid bad days such as Friday afternoons, Monday mornings and Sunday evenings.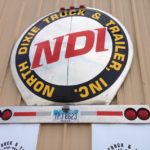 Driving during the summer months bring dangers, but that certainly doesn't mean you can't be safe and productive when the heat is on. Safety simply means being cautious and prepared. Knowing what's out there and some tips to help you through it will decrease the danger significantly.
Want some more ways to stay safe? How about getting a thorough maintenance check, or an alignment, or a set of new National Brand Tires? At North Dixie Truck and Trailer, Inc., we have everything a truck driver could find to make sure they stay safe and secure on the road. Contact NDI today by email to info@northdixietruck.com or by calling 419-222-8785 for parts or 419-221-3750 for maintenance.
(Sources: NDI and Great West Casualty Company)