Is the truck driver on your Christmas list tough to buy for? Or have you exhausted your go-to items and need some new ones?
Luckily, we've got you covered with some fantastic gifts that will help them, entertain them and make their lives a little easier.
Carhartt Bibs and Coat: There's no better duo to help you combat the cold. And guess what? You can get a free one today by entering our Christmas contest.
Portable Truck Battery Charger: Help your trucker get through winter with a tool that makes sure they're not relying on someone else if their battery needs a jump.
Roll Around Cart and Creeper: These are great to have in the garage and help your mechanic have some comfort when working on their trucks.
STA-RAT: Semi Tandem Axle Release Assist Tools are a huge help for truckers, allowing a driver to single-handedly release the tandem locking pins while watching through the rear-view mirror.
Shower Kit: A fully stocked shower kit is a great idea to help those who travel and frequently shower up on the road. Oh by the way, NDI gives complementary kits out to drivers who stop to have their trucks worked on.
Bluetooth Wireless Headset: Because law prohibits truckers from using handheld devices while driving, this is a safe way drivers can communicate.
Sirius XM Radio: Quite simply, satellite radio is a beautiful thing. More than 150 channels, no static and the channels never change.
A Compact Cooler: One way to help your trucker stay healthy on the road is by giving them something that lets them pack healthy meals with a compact cooler.
Slow Cooker: Along the same lines as a cooler, what about a travel slow cooker? Let your trucker drive all day while dinner cooks for the evening.
Tool Set: Every trucker needs a basic tool set, the bigger the set the better so they can be prepared for any situation.
Pocket Truck Stop Guide: One of the best resources out there for a trucker, a complete guide that allows them to know the best spots along the road.
A Power Inverter: A lot of trucks may not have USB ports or power inverters in the cab. These power inverters work off the semi-truck battery and power anything that uses a plug or USB port.
First Aid Kit: This is always a good idea, especially considering drivers aren't always near a medical facility.
Portable Vehicle Safe: A good safe with an electronic key code is a nice idea because trucks are always at risk of theft and drivers often have to collect cash and checks at delivery. Also, when truckers stop for breaks, showers or are broke down, they can leave valuables behind without worry.
Heated Blanket: A fantastic idea for truckers who sleep in trucks or when the truck or heaters break down.
Truck Mattress: Today's truck mattresses are much more comfortable than they were in the past and fit each person's wants for a good night's rest.
Seat Cushion: Consider the fact that drivers are sitting in the same position for hours upon hours. A pressure-relieving cushion can alleviate a ton of discomfort.
Personalized Mud Flaps: Just a cool idea.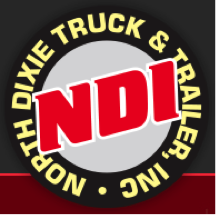 These Christmas gift ideas for your trucker should certainly help out as you start filling out your list. And keep in mind North Dixie Truck, Inc. has a full-stocked parts department with everything you could want this Christmas. And if we do not have what you want, we will get it. Call us at 419-222-8785 or stop by at 2084 North Dixie Highway, Lima, Ohio 45801.