Whether it's for safety, fuel economy or increasing the lifespan of your tires, you should always keep a close eye on them and always inspect them on a pre-trip basis. In the summer especially, the heat and storms can lead to tire problems like blow-outs and other hazardous situations.
So make sure you are staying on top of your tire safety by regularly checking them out. Here's what you should keep a close eye on, along with some regulations you should know when it comes to your tires:
—     Air Pressure: Know what your company's air pressure requirements are and regularly check the air pressure to make sure the level is at the correct standard. Also, see if the tire is having problems maintaining air pressure, if so, contact your maintenance department. According to truckinginfo.com, under-inflation is "any pressure less than the minimum recommended for the tire load." It's a good idea to check air pressure when the tire is cold, prior to starting a trip for a more accurate gauge. Low air pressure is one of the main causes of blowouts and fires, along with other tire problems.
—     Condition: During every pre-trip inspection, check the condition of your tires by listening for air leaks, signs of uneven wear, sidewall damage and anything out of the ordinary.
—     Tire tread: A tire with low tread depth is more likely to blow out when it hits debris. Also, if tread is wearing unevenly, it is a sign of improper air pressure. According to Federal Motor Carrier Safety Administration (FMCSA) regulations, "the minimum tread depth for a steer tire is 4/32 of an inch on every major tread groove." For more great information on tire depth, take a look at this article from fleetowner.com.
—     Immediately replace missing valve caps.
—     If you hit or run over a big piece of road debris, don't just keep driving. Find a good place to pull over and check to see if any damage was done.
—     Always take a look between dual tires to see if there's anything wrong: Something lodged, obstructions or foreign objects.
Maintaining your tires is not only going to make you safer on the road, but it will help you avoid citations, improve your gas mileage and help your tires last longer. For more information on the regulations and other facts, check out the FMCSA and the Commercial Vehicle Safety Alliance's websites.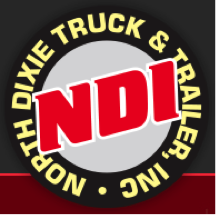 Whether it's time for a set of National Brand Tires, or you need a fantastic maintenance department to check your tractor-trailer from top to bottom, think North Dixie Truck and Trailer, Inc. Contact NDI today by email to info@northdixietruck.com or by calling 419-222-8785 for parts or 419-221-3750 for maintenance.